Before Adam Lambert's life was taken over by "American Idol," there was "Wicked" as well as "The Ten Commandments" — yes, a musical version of the sand-and-sandals biblical epic.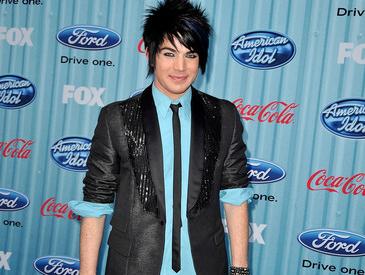 The 27-year-old contestant, who was a favorite to take the "Idol" crown next Wednesday, had a professional musical-theater background before he ever sang for Simon, Paula and the rest of the show's judges.
Adam Lambert did two stints in "Wicked," the mammoth musical prequel to "The Wizard of Oz" as he was joining the touring company in March 2005 and staying for six months, then opening in the extended Los Angeles production in February 2007 and remaining with the show until October 2008. For both engagements, he was a member of the ensemble and understudied the role of Fieryo, the show's love interest.
Bernard Telsey, who is a casting guru that auditioned Lambert for "Wicked," dished the details: "Adam was a theater guy. He came in and had that amazing voice or as I like to say 'instrument' because he has this incredible range."
Telsey, who has cast such hit Broadway musicals as "Rent," "Hairspray" and the current revival of "South Pacific," continued: "I literally remember saying, 'Oh my God, this guy has the highest range.'"
He added: "And you are always looking for ensemble people who have a huge vocal range and vocal power. In an ensemble of only a handful of voices, you want that kind of a sound. It makes a show feel like there are 20 people in the ensemble as opposed to 10."
At the time, Lambert didn't look David Bowie-esque, Telsey explained: "He didn't look like a rock star. He looked like a normal kid with long hair, wearing jeans and a T-shirt and who had a big rock voice."
What Lisa Leguillou remembers best about Lambert was his fearlessness.
As the associate director of "Wicked" — in charge of keeping the show true to director Joe Mantello's original vision — she said: "I always got a sense that Adam was clear about what he wanted to do. He talked about his music a lot with me and what he wanted to do with it in the future. He was clear about that — doing his own stuff, which was rock. And now he's doing it."
And Lambert's singing is effortless, according to Leguillou.
"That's what is so shocking. He just opens up his mouth. You never have to worry about him when he is on stage."
In 2004, Lambert made a splash — or at least emerged unscathed — from "The Ten Commandments," a pop-rock opera (starring Val Kilmer as Moses) that had a brief run at the Kodak Theatre in Los Angeles.
Reviews for the show were not kind. The New York Times called it "bland, static, overproduced and underdirected." The Los Angeles Times sniffed, "'The Ten Commandments' has the power to leave an epiphany-seeking theatergoer speechless."
Yet Lambert, portraying the slave Joshua, was favorably noticed by both papers, with the New York reviewer even saying the performer was the show's "most consistent crowd-wower."
For those wanting a look at a pre-"Idol" Lambert, his big number from the show — an anguished sob called "Is Anybody Listening?" — can, of course, be found on YouTube, or on a commercially available DVD.
Comments
comments