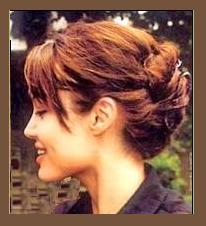 Angelina Jolie, 31-year-old actress, topped a poll conducted by movie website www.pearlanddean.com. The actress was voted as the Hollwood's 'yummiest mummy'.
Angelina Jolie, most recently made headlines for adopting a Viatnamese baby, beat other beautiful Hollywood mothers to the title when she garnered around a quarter of the total vote.
Kate Winslet, the star of the movie "Titanic", got the second spot of the list. She has 18 per cent of the votes. Reese Witherspoon, the star of the movie "Legally Blonde" got the third spot. Followed by Cate Blanchett who landed fourth spot.
Kathryn Jacob, the spokeswoman of Pearl and Dean website, admitted that she wasn't surprised sultry Angelina – whose partner is Brad Pitt – topped the poll. She said: "There are some beautiful Hollywood mums in this list but Angelina Jolie's combination of stunning looks and column inches have earned her an army of film fans."
Other sexy celebrity mothers who made the top ten included Katie Holmes, who has a daughter Suri with husband Tom Cruise, Julia Roberts, who is currently pregnant with her third child, and Gwyneth Paltrow, who has two children, daughter Apple and son Moses, with her Coldplay star husband Chris Martin.
Top Ten Hollywood's 'Yummiest Mummy' In A Poll:
1. Angelina Jolie – 26%
2. Kate Winslet – 18%
3. Reese Witherspoon – 13%
4. Cate Blanchett –10%
4. Catherine Zeta-Jones – 10%
6. Katie Holmes – 7%
7. Demi Moore – 6%
8. Julia Roberts – 4%
8. Nicole Kidman – 4%
10. Gwyneth Paltrow – 2%
Comments
comments