Brad Pitt and Angelina Jolie, the stars of the film "Mr. And Mrs. Smith", are planning to move to Berlin, Germany, so that they could raise their kids out of the limelight.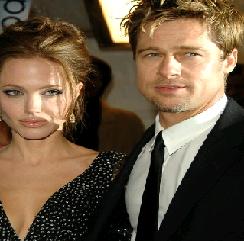 According to reports, the actor is increasingly concerned with Angelina Jolie's health. He also wants their kids to grow up in Europe.
According to a newspaper's claim, Brad Pitt told a pal, "I want Angelina to settle down somewhere out of the limelight. She's lost a lot of weight recently and our plans are strictly to do with our move to Berlin. She wants to leave acting and support me with this. We also don't want our kids to go to school in Hollywood – it will be best if they can go to school in Berlin. We love the city. Berlin is so quiet and balanced, away from paparazzi."
Brad Pitt already has one home in the city and is planning a second, which he is designing with his architect friends who renovated his Los Angeles home.
The actor recently revealed, "Design and architecture has always been my dream. I very much seemy future in this, not the film industry. We bought one beautiful house in Berlin, and another one I am trying to design myself close to Potsdam. I have signed the contracts with two of my German partners and the contract starts in September 2008. I cannot wait."
Comments
comments