Brad Pitt and Angelina Jolie are the most powerful celebrity couple on the planet, with a greater star status than even the Beckhams, a new study showed.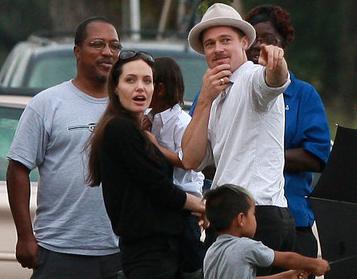 Using a formula to work out how much stronger they are together than they would be individually, the A-listers get a perfect score of 30 out of 30, ahead of 25 for David and Victoria.
But at least this is considerably higher than the mere 2.7 scored by Wayne and Coleen Rooney, showing they have some way to go to become football's genuine power couple.
At the bottom of the list compiled by heartburn and indigestion brand Gaviscon Double Action is TV presenting pair Vernon Kay and Tess Daly who could only manage a lowly two points out of 30.
Psychotherapist Paula Hall was commissioned to analyse the strengths and weaknesses of celebrity couples using a Power of Two formula to see how well they work as a power couple.
The formula measures factors such as current and future earning power, public profile, career to date and predicted time left on the centre stage as a celebrity couple.
Tom Cruise and Katie Holmes, nicknamed TomKat, reached a respectable 18.3 for their joint success as a Hollywood golden couple.
Like Pitt and Jolie and the Beckhams, they have considerable earning power as a couple, not just as individuals with both partners contributing towards their overall fame, talent and success.
Others in this category include, for instance, rapper Jay-Z and partner Beyonce Knowles who have a Power of Two score of 17.5 and actors Will Smith and Jada Pinkett Smith who score 15.5.
According to Paula Hall's calculations, Sarah Jessica Parker and Matthew Broderick score 14.5 but Chris Martin and Gwyneth Paltrow only manage ten out of 30.
1. Brad Pitt and Angelina Jolie (30)
2. David and Victoria Beckham (25)
3. Tom Cruise and Katie Holmes (18.3)
4. Jay-Z and Beyonce Knowles (17.5)
5. Will Smith and Jada Pinkett Smith (15.5)
6. Sarah Jessica Parker and Matthew Broderick (14.5)
7. Chris Martin and Gwyneth Paltrow (10)
8. Demi Moore and Ashton Kutcher (3.8)
9. Wayne Rooney and Coleen Rooney (2.7)
10. Vernon Kay and Tess Daly (2)
Comments
comments