Claire Danes, a Hollywood actress was caught on tape flashing her boobs while promoting her new film "Stardust".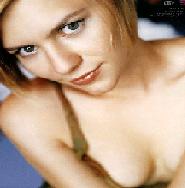 The "Romeo And Juliet" actress was spotted showing off her assets on Canadian MTV.
In the new flick, Claire Danes appears with Robert De Niro, Michelle Pfeiffer and Sienna Miller, according to a newspaper's report.
Matthew Vaughn directs the movie that is based on a novel by Neil Gaiman.
Stardust is scheduled for October 19 release.
Comments
comments