David Archuleta, whose self-titled album debuts Nov. 11, wanted his first album due in record stores next week to prove that he's more than just a pretty face.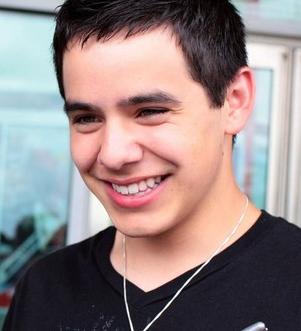 The young singer, who's not quite ready for serious dating, will embark on the music career he has dreamed of for 10 years after he almost won the top-rated television show "American Idol."
The 17-year-old singer revealed: "I think the album shows a variety of styles. One song has a reggae-ish feel to it, there are slower ones and others with a different feel. I did sing a lot of ballads on "American Idol" because I felt I could connect with people most that way. But I don't want people to think that's all I can do. I wanted to show that I'm still young and fresh and that I listen to Top 40 radio too."
His self-titled debut album will be released on Nov. 11. The anticipation for his album is strong in the U.S. and other countries such as Malaysia and the Philippines.
The baby-faced Utah teenager's first single, "Crush," released in August, went to No.1 on iTunes within 24 hours and debuted at No. 2 on the Billboard Hot 100.
In a marketing bid to keep that rivalry between David Cook and David Archuleta, the "American Idol" runner-up explained: "I know everyone wants us still to compare and compete, but we are so different. Cook is a rocker guy, a guitarist and an amazing musician, and I'm a pop kid. I am as excited for his album as I am for mine because we have gone together through this process of watching our dreams grow. This is what we've been looking forward to — living our dreams and starting our musical careers."
David Archuleta co-wrote five of the songs on the album and is putting a band together ahead of performances on television and at Christmas pop festivals. But he won't be sitting at the piano, at least for now, and he says he still gets nervous when performing.
He added: "Right now, I've been more focused on making sure I am singing the songs as best as I can. I get a little nervous because you don't know how well you are going to do. But it is so much fun when you are up on stage. You forget about your nerves because you are loving what you do."
Despite his teen idol status, he insisted that he's still trying to figure out girls, saying: "I think there will be that girl who I really feel like, wow, she's special. But I'm still getting that idea of what kind of girl I'd want to be with for a long time."
Comments
comments