George Clooney and Matt Damon, stars of the film "Ocean's Thirteen", have been poking fun at their co-star Brad Pitt. They were expressing their "sympathy" at having to live with "horrible, ugly" Angelina Jolie.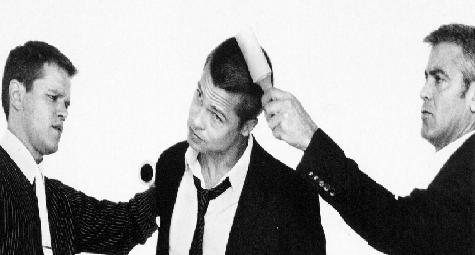 The actors have been reunited for the film's world premiere at the Cannes Film Festival on the French Riviera.
Since the last Ocean's film premiered at Cannes two years ago, the lives of Brad Pitt and Matt Damon have changed significantly. Brad Pitt has divorced Jennifer Aniston and he is now a father of four kids, while Matt Damon is married with a baby daughter.
At the premiere yesterday, Matt Damon revealed, "Brad has had it tough. He's…", before Clooney interrupted, "Hobbled with children… [and] that
horrible, ugly wife."
Matt Damon continued, "I mean, to go home to her every day."
Comments
comments