Geri Halliwell, who was having a wonderful time in St Tropez, showed off her stunning figure as she took to the water in the South of France.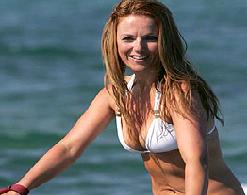 The 34-year-old singer was having a jet ski while enjoying a sun-soaked break. She has been pulling out all of the stops to get back into shape for the Spice Girls comeback tour which was announced earlier this year.
Ginger Spice hasn't toured since she quit the band in 1998 and is determined to be physically and mentally prepared for the 14-date reunion shows that kick off in December.
In a recent interview, Geri Halliwell revealed that she is nervous about taking to the stage again, saying, "Until I am up on that stage I can't quite tell. I can't quite explain how it feels until you actually do it you. Having said that, I have got four other girls with me and we have always supported each other."
But she is excited about the eagerly anticipated reunion, adding, "I feel very optimistic and positive, the point of this is to be a very fun experience and obviously the feedback that we have had is amazing and I think that the support and the encouragement from the world is almost like helping us to make this happen."
Comments
comments