Lindsay Lohan was chasing a therapist to the stars when she was arrested for driving under the influence.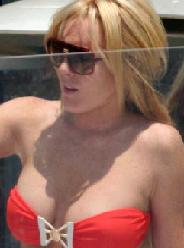 The "Freaky Friday" star was in pursuit of a car being driven by Michelle Peck, the mother of her personal assistant Tarin Grahame, in Los Angeles in the early hours of July 24.
The therapist, who treats a number of Hollywood stars including Gwyneth Paltrow, Madonna and Heather Locklear, hid terrified in a parking lot and called 911 after being tailed through Santa Monica by Lohan, according to cops.
Police spokesperson Alex Padilla revealed, "Why she (Lohan) was trying to catch her, we don't know. The woman in the other car was so afraid. She wasn't sure what was going on so she called us."
Comments
comments