Best female friends and "Hannah Montana" co-stars Miley Cyrus and Emily Osment have different things to do on the upcoming Valentine's Day.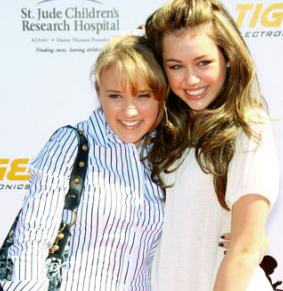 As for Miley, she prefers to enjoy herself at home. Emily, on the other hand, is planning to spend the day having fun with her girl friends.
Miley Cyrus revealed about how she would spend her Valentine's Day: "I love to chill out at home." She says she wants to "eat lots of food and rent movies." Besides, she also plans to do her hobby, "making picture frames and collages."
Meanwhile, Emily is feeling glad that the nearing Valentine's Day coincides with holiday that she doesn't have to attend school, saying: "It's nice to have off V-Day. I want to have a big V-Day party with all my girl friends."
Miley Cyrus and Emily Osment become close to one another after starring in Disney's TV series "Hannah Montana". They can next be seen starring in "Hannah Montana: The Movie," which is slated for April 10, 2009 U.S. release date.