Prince William and Kate Middleton, who are recently back together, will get engaged "sooner rather than later", it was claimed last Saturday.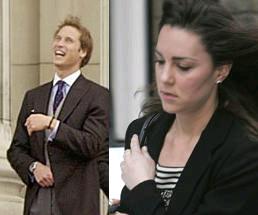 Royal sources say it will most likely happen once Prince William has finished training with the Royal Air Force and Royal Navy at the end of next year, saying, "We will know about an engagement sooner rather than later. William will be back in his Army uniform after he has finished his stints in the other Armed Forces."
The claims follow Kate's withdrawal this week from The Sisterhood, the 21 girls with whom she has been training to row a Chinese "dragon boat" across the Channel on August 25.
Royal insiders say William, who has said he does not plan to get married until he is 28 or 30, is under more pressure than ever to commit to 25-year-old Kate. The Queen and Prince Philip are said to be particularly keen for their grandson to make a decision.
A source revealed, "After they split up, William confided to his grandparents that he was not sure if he loved Kate enough. Now they are back together, the Queen wants William to do the right thing – either marry the girl or let her go. She would rather they broke up for good now than get married only to have it end in divorce in five years' time. But if Kate is the one, then a five-year courtship is long enough. Prince Philip has told William that he cannot keep stringing along Kate for ever."
The source added, "Whether he likes it or not, William is not a normal 25-year-old. The Royals do not have long engagements. It's all very well saying Kate is the right girl who has come along five years too early, but what is she meant to do in the meantime? It poses a security nightmare above anything else. She's already a target for paparazzi, so she must be a target for terrorists."
Comments
comments