Prince William treated his Army friends to an all-expense paid trip to the movies.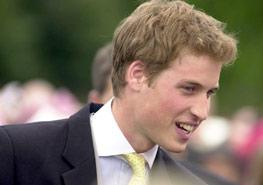 The 24-year-old prince spent about $157 on tickets and snacks for nine of his pals to watch "Ocean's 13" at Cineworld in Weymouth, near his Dorset barracks.
The prince and his pals scoffed ice cream and popcorn while watching the movie, which stars Brad Pitt and George Clooney.
Stephanie Ward, 21, who served Prince William, revealed, "He was just like any other lad on a night out."
Earlier this month, he visited an ASDA store and splashed out about $1,700 on alcohol and snacks for a barracks party. Prince William, who was dressed in jeans and a baseball cap, pushed his own trolley and loaded it with Pimms, beer, wine and spirits.
Meanwhile, Prince William's finances will be boosted on his 25th birthday this Thursday, when he becomes legally entitled to the income accrued on the $12.8 million left to him in his late mother Princess Diana's will.
Prince William is expected to have unrestricted access to between $492,800 and $591,360 a year, according to financial experts
Comments
comments