Danity Kane members Aubrey O'Day and Wanita "D. Woods" Woodgette got the boot on Tuesday night's live season three finale of "Making the Band".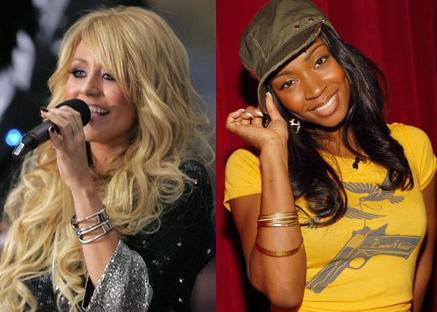 Dawn Richard, who is one of the three remaining bandmates, revealed: "Puff did not like [O'Day's] image…where her image was going for the group."
She insisted: "It wasn't a personal thing." Perhaps the sexy image of Aubrey O'Day was alienating young fans since the singer posed topless in Complex magazine last month.
She explained: "We had just did a signing with Dollhouse Teen, which is for 13, 14-year-old young girls. So we can't do that one day and then the next day do an obnoxious cover…. [Diddy] wants the fans, and he says he can't do that if we can continue to go in the direction that we were going."
Puff Diddy pointed to Aubrey O'Day's attitude as a reason for getting fired as he revealed via satellite on Tuesday's show: "I just want to work with the young lady that I signed, not the person that fame has made her."
Dawn Richard also revealed that she's "still kind of shocked still…you never know with Puff."
On the reason why D. Woods was tossed? Diddy explained she got "caught up in the wrath" of Aubrey O'Day.
Although the two members were tossed out of the group, Danity Kane fans should not worry because the group will go on.
Dawn Richard revealed: "Well Puff told me specifically that Aubrey is no longer in Danity Kane and Danity Kane will move forward without her."
On finding the girls' replacements, Dawn added: "He has not said anything per that. But I think in my heart that he is gonna do another show."
Comments
comments