Rihanna, who shot to fame with her hit single "Umbrella" last summer, continued her invasion on the worldwide music charts and unleashes new single "Disturbia" in the UK this week.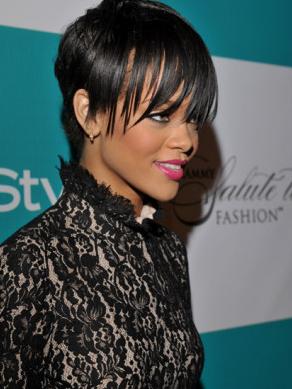 The Barbados beauty proved to be a strong contender after she secure her third UK number one on Sunday's chart countdown and landed at number three through digital download sales.
Having bumped into a music producer at the age of 15, Rihanna nabbed a record deal with Def Jam Records and hasn't looked back since.
Here are the ten fascinating facts about the R&B superstar:
1. Rihanna was born and grew up in Barbados with parents Ronald and Monica Fenty. She has two younger brothers, Rorrey and Rajad.
2. Rihanna won her school beauty pageant in 2004, where she belted out a rendition of Mariah Carey's 'Hero'.
3. The people of Barbados are so proud of their number one pop export that they created a national holiday in her honour in February.
4. Rihanna's big breakthrough with single 'Umbrella' almost didn't happen at all. Songwriter Christopher Stewart composed the track for Britney Spears, but it was rejected by Brit's record label. Rihanna had the last laugh as the song charted at number one in more than 20 countries.
5. Perhaps eager to cement herself among the US's top recording artists, Rihanna has cited Madonna, Alicia Keys, Beyoncé Knowles, Whitney Houston and Mariah Carey as her main inspirations.
6. Rihanna is the first female Barbadian singer to score a Grammy Award. Steel Pulse member Jimmy Senya Haynes previously picked up a Grammy in 1986.
7. Rihanna has the number one 'Sexiest Celebrity Stomach' according to a poll conducted by the wonderfully titled probiotic supplement AntiBloat.
8. When it comes to sitting down in front of the TV, Rihanna likes nothing more than tuning in to follow the adventures of fictional Hollywood heartthrob Vincent Chase on Entourage.
9. Rihanna looks for height in her ideal man. "My favorite thing in a guy is his height. He has to be 6ft at least. He also has to know what he wants in life," she says. At 5ft 8in, Rihanna is certainly no half-pint herself!
10. Rihanna hasn't made a concentrated effort to break into acting yet. However, she'll be hoping any future silver screen roles are more successful than her movie debut. She made a brief cameo in the straight-to-DVD movie Bring It On: All Or Nothing back in 2006.
Comments
comments