The runner-up of 'American Idol' season eight Adam Lambert hits studio with RedOne, who has produced Lady GaGa's singles, for his debut album.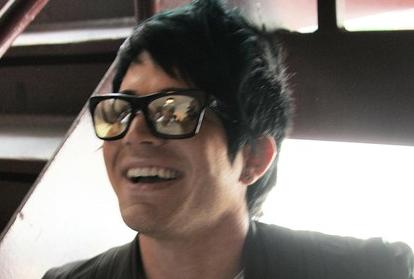 In working on his debut album, Adam Lambert is reported to receive helping hands from RedOne, the mastermind behind Lady GaGa's hit singles. Adam and RedOne are said to have lingered in Los Angeles' studio over the weekend.
Sources from Adam's label, 19 Recordings, say that the singer's upcoming effort will be filled with "Queen-inspired" sounds. But according to E! Online, the runner-up of "American Idol" season eight and the powerhouse producer are looking "for a new sound that goes beyond what he did on 'Idol'."
RedOne recently shared his vision to Los Angeles Times about what he is interested to do for Adam's new album. The producer said: "I want to go rock — David Bowie and Queen, but make it more easy for people to get. It has to be rock, but with an interesting dance angle to it, you know? You'll like it."
"You know what I like about him? He's fresh," RedOne continued. "You can go almost whatever direction with him. People know him from being on 'American Idol' singing other people's songs, but you can take him in a new direction, and this will be the first time you hear Adam Lambert with his signature. My goal is to get his signature out from him to the world."
Adam Lambert's first studio album is set for release this fall. Unlike his labelmates, Kris Allen and Allison Iraheta, whose records are licensed to Jive Records, Adam's is licensed to RCA.
While waiting for his album to be finished, Adam Lambert's fans can enjoy several of his singles, "Mad World", "No Boundaries", "A Change Is Gonna Come" and "One", which all have been made available for digital purchase. They can also catch Adam's live performances with the other Idol castmates on Top Ten American Idol Summer Tour which will be started at Rose Garden in Portland on July 5.
Comments
comments