It was Jennifer Aniston's night to shine as she received Women in Film's prestigious Crystal Award for expanding the role of women in the entertainment industry on Friday evening.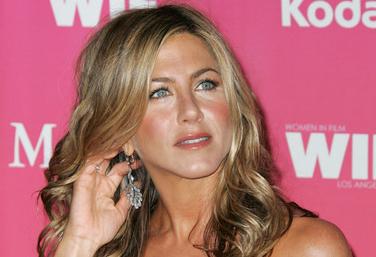 For a change the stunning actress, who looked particularly pleasing in a form-forming Prada strapless dress, was in the spotlight for her professional life rather than her personal life.
But how does Aniston feel about being the most talked about starlet in Tinseltown?
"I'm really not bothered by it. They aren't talking to me," she revealed before the sit-down dinner, adding that she takes time "everyday" to be thankful for her life and career.
But even despite her success (at least when it comes to her "reel" life), it's comforting to know that even the Jennifer Aniston struggles to see herself on the silver screen.
"I have to be self-critical," she added."I think it's good to sort of go, 'Well yeah don't do that next time' or 'not a great choice.' You've always got to keep trying things but sometimes not everything's going to work."
Speaking of criticism, the actress got quite the surprise during the show when host Chelsea Handler decided to raise the issue of her ruptured romance in front of the star-studded audience.
"You also stopped expanding the visibility of John Mayer, and we all thank you for that," Handler joked, motivating Aniston to bury her head in her hands followed by a look of embarrassed disbelief.
But all in good humor, the 40-year-old actress took aim at her own lousy love life while accepting the honor.
"I'm trying to be more careful than I have been in the past about the titles of movies that I choose to be in. It's funny — I kind of noticed something a couple years ago that there seemed to be this strange parallel to the movies I was doing and my life off screen," Aniston explained. "It started with 'The Good Girl,'" she explained. "Then that evolved into 'Rumor Has It,' followed by 'Derailed,' and then there was 'The Break-Up.' And then on the lighter side was 'Friends with Money,' which I felt was a bit on the nose. So if any of you have a project titled 'Everlasting Love with an Adult, Stable Male …'"