David Cook, who was "American Idol," recently admitted that he has a little bit of a crush on actress Mandy Moore, so is it a possible obstacle for David Cook and his very public girlfriend Kimberly Caldwell?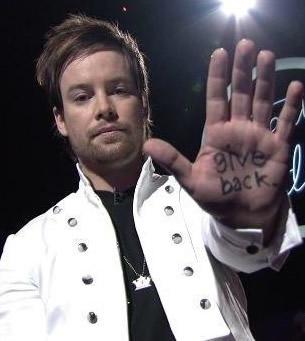 The celebrity pair caused quite the stir right after David was crowned the winner of season seven of American idol with their romance and their trips around Los Angeles.
The "American Idol" star actually got the ball rolling when he asked Kimberly out on live television. That online video was an immediate hit and after they were caught by the cameras of celebrity gossip website, David Cook was forced to confess and admit his new relationship with the blonde singer, actress and host.
David Cook's incredible popularity made Kimberly and her racy pictures she had posed for right after season two of American idol a popular search as everyone wanted to get to know the woman that might have captured David's heart. Other fans were unhappy that he was dating the former idol castoff. So where is the relationship now? And how will they survive being apart with the tour firing up July 1.
An earlier report notes that Kimberly would like to join David for some of the tour dates. And he confessed that the two are still together but they plan on keeping in touch electronically while they are apart. He confessed, "Email, text, all of that is pretty much going to be my life for the next few months.
The source explained, "He's got to finish his album and go on tour, and it's hard to establish a real relationship when all your attention is on starting your career."
That doesn't mean she is one of the usual buxom bimbos that surround rock stars, that means she might be with David on tour. The report claimed that Kim, 26, is planning to join the 25-year-old rocker on a few of his American idol tour dates. David, however, is still coy about their future together.
David Cook added, "Kim and I went out on a date, had a good time. Past that, there's really not too much to say. If schedules warrant, we may hang out again."
It sounds like Kimberly Caldwell will be working very hard to make sure those schedules do match up if she is willing to travel with America's hottest new rock star David Cook.
Comments
comments