American idol finalist Adam Lambert seems to own the stage this season and struggles have been few and far between for the veteran performer. But what is his greatest struggle? Lambert and others on Idol spoke with Life & Style Weekly and the magazine dished on what some of the contestants (and judges) have dealt with to make it to the top five on American idol.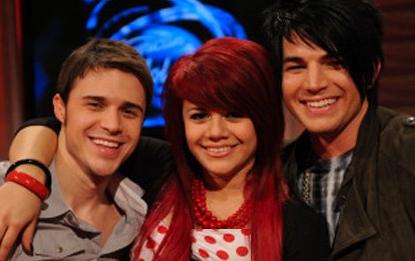 Judge Kara Dioguardi recently spoke out for the first time about her struggle with a binge-eating disorder when she was younger. "Instead of dealing with my emotions, I would stuff them down with food," confided Kara, 38.
In the spirit of her confession, season eight's five finalist are telling Life & Style about their own personal struggles. For Adam Lambert, 26, making ends meet has been the issue. "My biggest struggle has been supporting myself as a performer and making a living in the arts," he says.
"It's tough being a teenage," says Allison Iraheta, 16. "I'm working on believing in myself." Matt Giraud, 23, admits, "I am confident in my musicality, but I used to struggle with self-confidence."
Kris Allen, 23, says his biggest challenge has been "having courage to do things – to go after what I really want."
And Danny Gokey? The 28 year old crooner says he can be his own worst enemy: "I need to not make excuses and always know I can overcome any situation that is put in front of me."
Comments
comments