Angelina Jolie, on her third trip to Iraq in two years as a UN goodwill ambassador, has appealed for aid to an estimated 1.6 million civilians who remain uprooted in their homeland.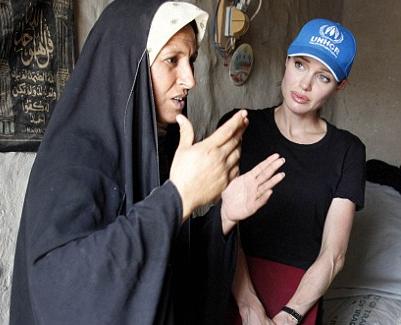 The American actress visited a makeshift camp for displaced Iraqis in a suburb of Baghdad during her one-day trip, the UN High Commissioner for Refugees (UNHCR) said in a statement.
"This is a moment where things seem to be improving on the ground, but Iraqis need a lot of support and help to rebuild their lives," Jolie was quoted as telling them.
A father of six whose family fled its home four years ago complained his children could not go to school and he could not afford to pay for medical treatment, according to the UNHCR.
"It takes a lot of strength for you to survive this life. I don't know if I would be strong enough to survive this," Jolie told him.
She has visited more than 20 hot spots including Iraq, Afghanistan, Pakistan and Sudan since becoming a goodwill ambassador for the UN refugee agency in 2001.
An estimated 1.6 million Iraqis remain uprooted within the country, while another 300,000 have returned to their homes amid a general improvement in security in the past year, UNHCR said. Syria and Jordan say that they have registered some 2 million Iraqis who have fled their country, but UNHCR says these are not all refugees or necessarily residing in those countries.
The UN's emergency relief coordinator, John Holmes, said this week that he hoped more Iraqi refugees and internally displaced persons (IDPs) could go home soon on a voluntary basis. But he also expected the Iraqi government to provide more resources.
"What we're hoping at least is that the possibilities for return for both refugees and IDPs may improve significantly in the next few months, and that's what we're planning for," he told a news conference in Geneva on Tuesday.