Brad Pitt and Angelina Jolie were recently photographed with their kids playing the role of an American family driving tough a fast food burger restaurant, looking like the happy family, but that hasn't stopped the speculation of trouble in paradise for Brangelina.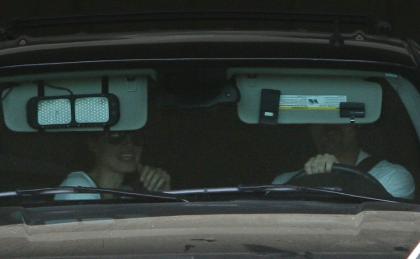 According to a report, Brad Pitt is looking to help the hurting California real estate market and general overall economy with a possible home purchase. Pitt fancies himself an architect of sorts and seems to enjoy design as a hobby, and the report claims something has caught his eye. Is it a house or the ex or perhaps both? It sounds like a cool pad and his ex certainly still looks great.
The report indicated: "Brad's not spending his time off just taking the kids in for health checkups. He's also been browsing local houses for sale in the LA area. On July 15, one particular place caught his eye: a $3.9 million four-bedroom mansion formerly owned by Cleon Knapp, publisher of Architectural Digest."
The magazine can't pass up on this delicious nugget adding: "Another notable fact about the pad: It's a mere 1.2 miles away from the home of his ex, Jennifer Aniston." Everyone says LA is a small town. While it's still unclear if the former couple will soon be neighbors, an insider says Brad and Angie would be crazy to pass on the property. "The house is absolutely amazing," the insider says, according to the report.
Comments
comments