Words are, a sequel to the 2005 romantic action comedy is brewing as two of its leading actors seek a chance to reprise their assassin's roles once again.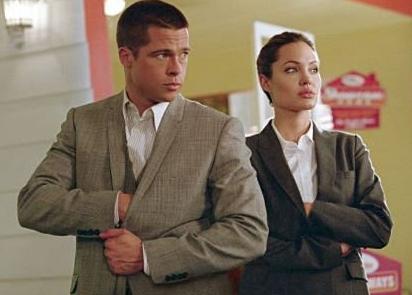 Rumor has it, a sequel for "Mr and Mrs Smith" is in the works as Angelina Jolie and Brad Pitt are said hoping to reprise their titular roles. National Enquirer reported the pair is keen on playing on the sequel in order to save their troubled relationship. "They're hoping lightning will strike twice and they can re-spark the magnetism that captivated them five years ago," said a close family friend.
Jolie and Pitt reportedly have been trying to work out their plan by asking the screenwriter of "Mr and Mrs Smith", Simon Kinberg, to write a script for the sequel. "The romantic action film was penned by screenwriter Simon Kinberg. He's become close friend of the couple, and Brad's asked him to write the 'Mr. & Mrs. Smith' sequel," the source gushed.
The insider additionally informed that there is a plan for the storyline which may include Jolie and Pitt's children. "This time around the Smiths will have children, and the kids' antics will be part of the story line," stated the source.
The source believes that Jolie and Pitt's relationship is "on the ropes" and they think working together once again may reignite their passion which first sparked while they filmed the first flick. "The stress of raising six kids and juggling two red-hot careers is wearing them down," the source claimed. "He's hoping they'll fall love all over again… to get their relationship back on track and refocus on loving each other."
"Mr and Mrs Smith", which featured Angelina Jolie and Brad Pitt as a pair, was released in 2005. The story centers on a married couple, John and Jane Smith, who discovers that their partner is assassin hired by competing agency and ends up in each other's cross-hairs. The 20th Century Fox's movie was directed by Doug Liman and has grossed approximately $468.3 million worldwide.
Comments
comments