Angelina Jolie, who recently revealed that Brad Pitt is the perfect father, was spotted letting her hair down in Canada. Is this a sign that she has let go of that whole uptight activist look in Canada? Is she copying Jennifer Aniston look?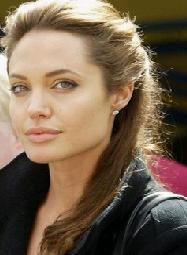 There was a weekly magazine report that revealed how old Angelina Jolie's body when it was compared to Jennifer's body. Angelina Jolie, who is 32 years old, was claimed to have the body of a skinny 37-year-old woman while Jennifer Aniston, who is 38 years old, was claimed to have the body of a 32-year old bikini model.
Now the "Good Shepherd" actress has copying the style of Jennifer Aniston, at least above the shoulders. The 32-year-old actress showed up with Brad Pitt for The Toronto Film Festival on Saturday night. She was actually smiling in photos from the event and looks way better than normal.
The rumors of breaking-up between Angelina Jolie and Brad Pitt took a week off as the celebrity couple promoted for Brad's film. But at least for one night she gave her hair a Jennifer Aniston tone.
You could see her recent hairstyle here
Comments
comments