Shiloh Nouvel Pitt, who was previously labeled as "outcast" and "blob," may finally be getting some love from mom and the little baby was recently snapped by the paparazzi with a mom holding her and allowing the little to snack on some potato chips.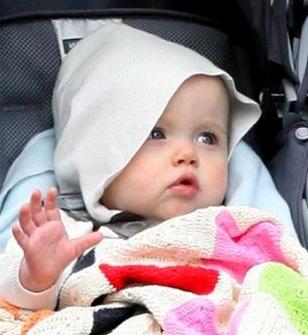 According to a report, Shiloh has grown from the blob into a "beautiful, genetically blessed 19-month-old with lips from Mom, eyes from dad Brad Pitt' and speculates that she is set to be the next Hollywood "Golden child." And finally got some compliments from her mom.
The 32-year-old actress recently revealed, "Shi's [Shiloh] so full of light and love. She's just a little honey and very, very funny." And despite keeping a lower profile than her other siblings, Shiloh was just named Hollywood's most influential infant by Forbes.
But watch out, Brad and Angie: It's not just your looks and clout you've passed on. "I'm recognizing some of myself in that one. She's going to be a little bit of trouble."