Angelina Jolie is jealous of Natalie Portman.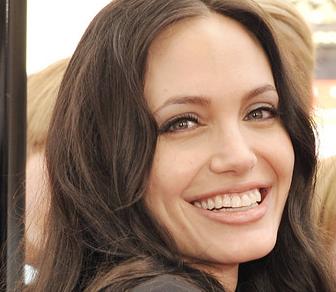 The "Changeling" star reportedly flew into a rage with partner Brad Pitt – with whom she raises six children – after learning the "Closer" actress had personally asked for him to play her older lover in a new movie.
A source said: "Angelina had a massive fit and was shouting her head off. She accused Brad of flirting with Natalie.
"Angelina can't help but feel threatened. Brad knows how jealous she gets but won't stop saying how gorgeous and intelligent Natalie is. He keeps saying she is 'cute as a button.' "
Angelina is particularly worried because she and Brad started their relationship after meeting on the set of 'Mr. and Mrs. Smith' in 2005 while he was still married to Jennifer Aniston, and she fears a case of history repeating itself.
The source added: "Angelina worries about karma. It's eating her up and we're sure the cause of a lot of the rows is her not quite trusting Brad."
Angelina and Brad have been dogged by rumours their relationship is in trouble in recent weeks.
It was recently reported Brad had pleaded with his girlfriend to attend couples' counselling in a desperate bid to save their relationship.
Angelina is said to have agreed, but only after seeking the advice of her ex-husband Billy Bob Thornton.
A source said: "This just caused more friction with Brad because although he doesn't have a problem with her talking to her exes, he doesn't understand why she would take Billy Bob's advice to try therapy as when he suggested it to her she reacted very angrily."
Meanwhile, Angelina Jolie is still an animal lover.
The actress was spotted in a chinchilla poncho and matching Russian hat on the Staten Island, New York set of Salt last week — but movie publicists confirmed to PETA that it's fake.
"The chinchilla is actually synchilla," the animal-rights group writes on its blog.
The U.N. Goodwill Ambassador plays Evelyn A. Salt, a rogue CIA operative trying to clear her name, in the thriller. It's slated to hit theaters in 2010.
Although her pelt was phony this time, Jolie was spotted with son Maddox at the Edwards-Lowell fur boutique in Beverly Hills in November 2007.
Comments
comments