Angelina Jolie is not fighting with Brad's parents or throwing wine at his face. Neither is she sick with an eating disorder. The reason why life is b(r)ad for the actess is because handling four kids can be stressful.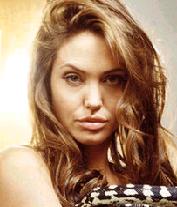 A source, which is close to the couple, disproved tabloid reports that the couple is having differences between them, saying, "There are no problems whatsoever. Things are really good."
J.D. Heyman, the People magazine editor revealed, "Things have actually never been better.
Anybody who has four small children knows it can be stressful. But the children really do seem to bring Brad and Angelina together."
As for the situation when Angelina Jolie threw wine at Brad's faces during a heated exchange, the editor commented, "It never happened."
About the differences between Angelina Jolie and Brad's family, the editor explained, "Brad's entire family spent Maddox's birthday in Santa Barbara with Brad and Angelina. They have a good relationship and they spend time together."
As for the actress' health, the editor revealed, "She eats three square meals a day, just like anybody else. She is chasing a lot of kids around. This is not somebody who is a sick person. She is definitely healthy."
Comments
comments