Angelina Jolie has continued to say bizarre and cryptic things to the media, causing more confusion and speculation about her relationship with Brad Pitt.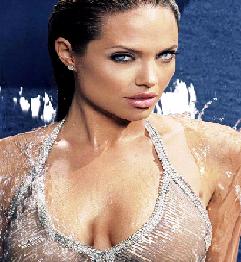 Aside from constant public refusal to marry, the actress has now revealed that she may never have said "I love you" to the father of her children.
Angelina Jolie revealed, "I don't think we've ever said (I love you). I mean, I'm sure we have, but we would have to punch each other in the arm first."
After she made their relationship seem very brother-sister and platonic, Angelina revealed that Brad is "more man than any man" she has ever been with.
Their relationship seems more dysfunctional than thought. Another report suggested that the couple is plagued by jealousy.
According to The Enquirer, both Brad and Ange are jealous of each other for the same reasons.
The insider revealed, "Angelina hates the whole 'Ocean's Thirteen' Rat Pack phenomenon. She can't stand the boys gang thing, which is why she's never liked George Clooney. She was always afraid that when Brad was in Las Vegas filming 'Ocean's' Clooney was trying to lead him astray. And Brad is equally as jealous of Angelina. It bothers him tremendously when she goes off alone." However, the couple are currently playing happy families in Prague.
Comments
comments