Angelina Jolie is trying to buy custody of her six children with Brad Pitt in order to avoid a potentially messy custody battle, according to a new report.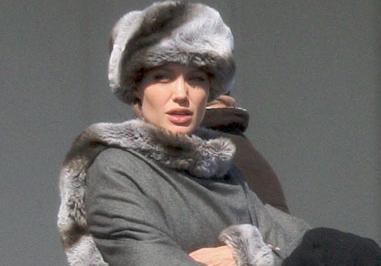 With rumors continuing to fly that their four-year relationship is all but over, it's claimed the Changeling star is keen to ensure that Maddox, Pax, Zahara, Shiloh, and twins Knox and Vivienne stay with her.
A source tells Britain's Look magazine, "The children are Angelina's life. "I think she's already resigned herself to the fact she and Brad may not weather this storm and she's prepared to do anything to keep them.
"From the start, Angelina made it clear that money was no object and she'd fight tooth and nail for sole custody of all children.
"The fact remains she wants them with her on a daily basis. To ensure this, Angelina sat Brad down and calmly informed him she was prepared to make a one-off, no questions asked $90m payout to him if he'd agree to forgo a nasty custody battle.
"Angelina is always jetting off all over the world and she has homes in several countries, whereas Brad is more settled in the US. She wants to make it clear the kids will be mostly with her."
Incidentally, $90 million is more than Angelina's current net worth, according to the most recent estimations.
Still, according to the story, Brad turned down the offer without hesitation.
"Of course, Brad nearly fell off his chair when she proposed the financial settlement," the source explains. "I think he thought she was joking for a while and told her to stop being so ridiculous.
"He rejected the offer and sad in the event of a permanent split, he intends to for – at the least – joint custody and a promise that all children will be raised and educated primarily in the United States near his family."
"Despite their differences Angelina thinks Brad is a brilliant father. But I think he is insulted and above all hurt that despite all he and Angelina have shared together and the children they've had, it's coming down to money."
Comments
comments