It is only three months since he split from long-term girlfriend Chelsy Davy but Prince Harry appeared to be enjoying his single status when he was spotted with glamorous television host Caroline Flack outside a London flat late on Friday.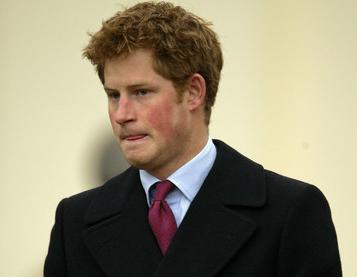 The Prince, dressed fashionably in a tight-fitting white T-shirt and beanie-style hat, smiled as he joked with the 27-year-old presenter.
Miss Flack, best known as the host of Sky TV show Gladiators, has known the Prince for a year.
However, the link between the two has not been made public until now.
They were introduced by mutual friend Natalie Pinkham, who the Prince was famously pictured groping in a nightclub several years ago.
Harry and Miss Flack were spotted emerging from a £500,000 basement flat in Fulham, West London, shortly before midnight after socialising with friends for more than three hours.
An onlooker said: 'They were having a great time and you could hear music, laughter and the clinking of glasses coming from within.
'Harry and Caroline were clearly getting along very well, they were laughing and joking and their body language showed they were relaxed in each other's company.'
A spokeswoman for Miss Flack, who is single, said last night: 'There is no romantic link between them – they are just friends. I believe the group went on somewhere else but I'm not sure where.'
Miss Flack's big TV break was as a co-presenter on BBC2's Saturday morning children's show TMI. Other roles include hosting Big Brother's Big Mouth, an offshoot
of the reality TV show on which Russell Brand made his name.
Last night a Clarence House spokesman declined to comment.