Angelina Jolie is going to be in bed with Pierce Brosnan in her new film.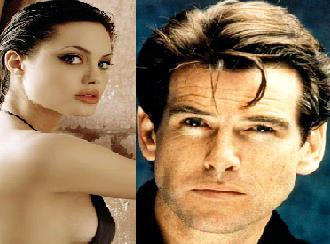 The 32-year-old actress, who will star with the former Bond actor in the sequel to 'The Thomas Crown Affair', and Pierce Brosnan are set to get hot and steamy together in a number of racy sex scenes in 'The Topkapi Affair' film.
A source revealed, "Pierce is keen to turn the 'Thomas Crown' films into a long-running series of movies. He believes the Crown character has the potential to have the same appeal as Bond, especially with a beautiful leading lady like Angelina."
Shooting on the movie will start in Egypt and Russia next year, after Angelina finishes filming 'Wanted'.
Pierce Brosnan, 54, is currently getting prepared to begin shooting the big screen version of hit musical 'Mamma Mia!'. The musical is based on the songs of Swedish pop group ABBA.
Comments
comments