Angelina Jolie's relationship with Brad Pitt has hit a rocky patch after the couple had an explosive row, it was claimed today.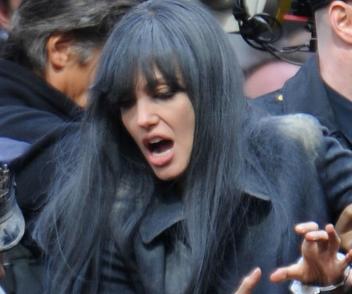 The exhausted actress reportedly returned home from a long day filming her new movie Salt to find Brad relaxing with beer and DVDs in their bedroom while their six children caused chaos downstairs.
Brad's behaviour is said to have triggered the second big argument between the couple over the last few weeks, with friends worrying for their future together.
Sources close to the couple say they had their biggest row yet when Angelina found Brad sleeping while nannies struggled to care for their large brood.
A friend of the actress said: "Angelina was completely and utterly exhausted, so when she came home after a hard day's work and found Brad had apparently done nothing all day except watch DVDs, she was livid."
The friend added: "She went upstairs and shook Brad awake. He was like a bear with a sore head and kept telling her to leave him alone."
Insiders on her new film Salt said the actress has been withdrawn on set and has been spotted deep in conversation with her brother James Haven in between takes.
Comments
comments