Due to 'personal family matters,' David Cook has canceled two shows in New Hampshire and Connecticut, asking fans to 'respect his privacy at this time.'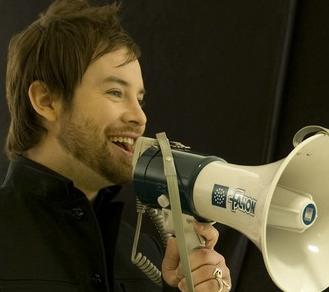 David Cook was forced to scrap his two scheduled live shows in New Hampshire and Connecticut due to "personal family matters." A statement on his official website read, "We are canceling Monday and Tuesday's shows to allow David time to deal with personal family matters."
"Please respect his privacy at this time," the message continued. "David would like everyone to rest assured that we are working with the Universities to reschedule the shows that are missed."
No further explanation is shared concerning the "personal family matters" which caused the gigs' cancellation. But, David's brother, Adam Cook, has been battling brain cancer for over a decade, and representative for the "American Idol" champ tells People that David has spent some time with Adam last week.
In response to the announcement, fans have shown their support, posting messages of encouragement to David. "There is nothing more important than family. Nothing. Take all the time you need. You have a strong and courageous family, and loyal fans and friends who will always be there for you. But family comes first," one of his fans wrote.
David Cook was originally planned to perform on March 30 at Colby-Sawyer College in New London, New Hampshire and on the following day at Southern Connecticut State University in New Haven, Connecticut. The concerts were part of his "The Declaration Tour" to support his eponymous major-label debut album "David Cook". Makeup date for the canceled shows are expected to be announced later.
David will be back hitting the road on Thursday, April 2 for a live performance at Azalea Festival to be held at Wilmington University in North Wilmington. After that, he will continue touring across America through October to complete "The Declaration Tour". More details about his upcoming shows can be found on his MySpace.
Meanwhile, David Cook is teaming up with AT&T to debut a sneak peek of his highly-anticipated new music video, "Come Back To Me," during a commercial break of American Idol TOMROROW (April 1) @ 8PM ET/PT on FOX. Afterwards:
– AT&T wireless customers can get a link to watch on their mobile phones via AT&T Cellular Video (CV) by texting "COOK" to "8008."
– AT&T U-Verse customers can access it through their Video On Demand (VOD) menu
Comments
comments