Anne Hathaway, a star of "Princess Diaries", was spotted wearing a blue bikini.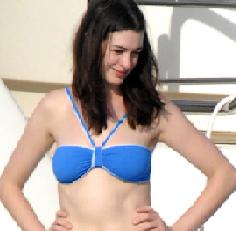 The actress was on a vacation on a yacht in Sardinia, Italy. She was with her boyfriend whom she appears kissing his hairy chest.
The 24-year-old actress recently revealed that she would rather lose out on a role than diet, saying, "I'd rather be strong than skinny for most roles. I'm not a size zero, and I've had directors say to me, 'You're the best actress for the role, but you've put on weight recently'. If people can't understand you've put on 5lbs, I don't want to deal with them.
Comments
comments