There is romantic speculation that middle Jonas Brother, Joe, is dating country-singing sweetheart Taylor Swift.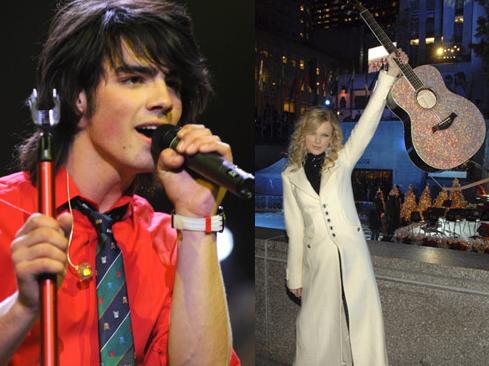 Even though Taylor Swift, 18, has revealed that Joe Jonas is just a friend, he did turn up at her concert Sunday night in West Palm Beach, apparently without his brothers Kevin and Nick. Taylor was opening for Rascal Flatts at the Cruzan Ampitheatre.
It was delighted to hear that Joe, who just celebrated his 19th birthday, tried to "hide out" in the crowd by wearing a baseball cap and casual clothes. Fans were onto him, however, and YouTube is filled with videos featuring clips of Joe, wearing a baseball cap, standing near the stage.
Some fans are thrilled that the two may be an "item," but only time will tell if they are — and that is if
they are willing to come clean. Lots of celebrity couples try and keep their relationships out of the spotlight.
Joe Jonas isn't the only one who has been spotting dropping in at concerts, however. Taylor was a surprise guest at a couple of recent Jonas Brothers concerts and she shot a cameo for the Jonas Brothers upcoming 3-D movie.
When Joe Jonas was asked if he was dating Taylor Swift, he replied: "She's a great girl… I think anybody would love to go on a date with her."
Comments
comments