Britney Spears, who previously revealed her secret diet in a magazine, was spotted having a playdate with her sons and other celebrity son.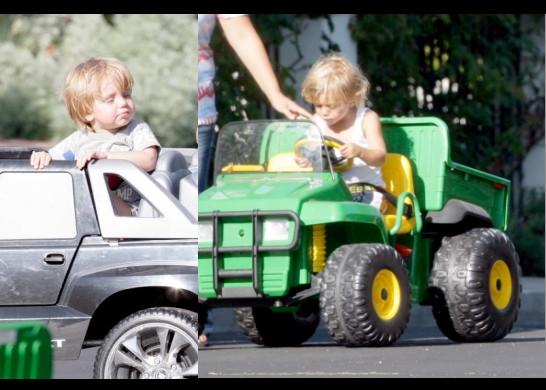 Britney Spear's sons Jayden James and Sean Preston have added another celebrity to their circle – Kingston Rossdale.
The boys were pictured enjoying a playdate with the two-year-old– son of singer Gwen Stefani and Gavin Rossdale at Spear's home in Los Angeles.
Kingston Rosdale, who welcomed a younger brother on Thursday after his mother gave birth to Zuma Nesta, played with the boy's electric car's while Britney and her mother Lynne Spears looked on.
The "Toxic" singer looked happy and healthy dressed in a black summer dress and flip-flops while she entertained the threesome.
She is currently allowed two visits with Sean, 2, and Jayden, 1, and one overnight per week in the settlement.
Britney Spears officially agreed to give her former husband Kevin Federline sole custody last month.
The 26-year-old paid out more than $700,000 (£376,215) in legal fees during the battle.
Two law firms that represented Britney Spears have submitted legal bills into court worth $466,000 (£250,326).
That's on top of the $250,000 (£134,358) the 26-year-old pop singer has agreed to pay Kevin Federline's attorneys.
The largest bill comes from attorney Stacy D. Phillips, who says in court filings that she is owed nearly $407,000 (£218,716) for four months of work. Phillips claims she has written off another $125,000 in fees.
Attorney Laura Wasser, who took over the case in June and negotiated an agreement between Federline and Spear's camp that allows the singer more time with Sean and Jayden, is seeking $60,000 (£32,246). She worked on the case for nearly two months.
Spears and Federline were married in 2004 and completed their divorce last July. She pays him $20,000 a month under an agreement finalised in July.
Phillips claims in court documents the case was made more complicated because Spears is under the temporary conservatorship of her father, James.
He took control of his daughter's personal and financial affairs after a series of high-profile incidents of erratic behavior and two hospitalizations.
Any payments will have to be approved by a Los Angeles court commissioner, and attorneys representing Spears' and her father's interests indicated last week in court they intend to contest Phillips' bill.