Former "Bachelorette" Trista Sutter, who graces the cover of Life & Style magazine, and her husband Ryan Sutter are expecting their second child.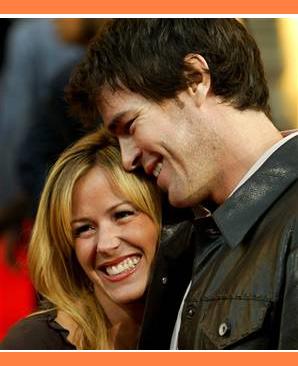 The couple recently celebrated their son Max's 1st birthday and now they're getting ready for another baby.
Trista Sutter is at least three months pregnant and talked about her recent pregnancy in a magazine interview.
Here is the highlights of her interview:
How soon after Max's July 2007 birth did you start trying again? Trista replied: "I was only on birth control for a couple of months. We thought that if it took us as long as it did with Max — two years — why try to prevent it? So we started trying in January."
When asked if she was surprised that she was able to get pregnant so quickly, she admitted: "I was in total shock! I took a few tests, and they all came back negative. But a few weeks after Max's 1st birthday, all of a sudden I thought to myself, I don't think I've had my period in a while. So I took another test — the line was extremely faint, but it was there!"
If she told her husband Ryan about the good news, she answered: "He was there. I had just taken the test when Ryan came up the stairs. I showed it to him and said, "I think I'm pregnant." His first words were, "Holy crap!" It was positive shock, one of the best kinds you can have in your life."
After Max's birth, you said you'd love to have a little girl. If you don't have one this time, will you and Ryan keep trying? She revealed: "I did say that — I'm such a girlie girl. But I've become really neutral about it all. I just want a really happy and healthy baby. I know that sounds cliché, but it's the God's honest truth. I would love to have a little girl, but I also love having a boy. Ryan has a brother, and they're about the same age difference as Max will be with his new sibling. So it would be fun to have two boys, too."
If she is going to have another boy, will will this baby be the last [child]? She added: "If we don't have a girl, I've thought about the possibility of adopting. It came up in conversation because I'm leaning toward having my tubes tied! I think I'll be happy with two kids. But then again, I was perfectly happy with just having Max. If we hadn't been able to get pregnant again, I was 100 percent happy with my life. This new baby will just add a little bit more life and spirit and happiness and fun!"
For the rest of the interview and other exclusive photos of the couple, grab the the new issue of Life & Style, on newsstands Oct. 15.
Comments
comments