Kate Moss was unveiling her striking new peroxide look while the British supermodel sprawled provocatively across an unmade bed.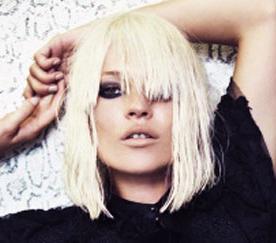 The supermodel posed for a racy Christmas range for Topshop that also includes a lace cape leaving little to the imagination. But it is her blonde bob-length hair which marks the most striking contrast to her previous look.
In the photo shoot, her eyes peer out from under a fringe with the caption: 'You want me to say who I am?'
Kate Moss, who showed off a perfect pair of legs modeling her range, was previously spotted showing off her knees, sinewy thighs and puckered skin with her short skirt.
Her revamped image mirrors her changing personal life. After a turbulent relationship with Pete Doherty ended earlier this year, she embarked on a romance with Jamie Hince, guitarist from the band The Kills.

You could see her photo here
Comments
comments