Katie Holmes was spotted in Berlin's Tempelhof airport to board a private plane.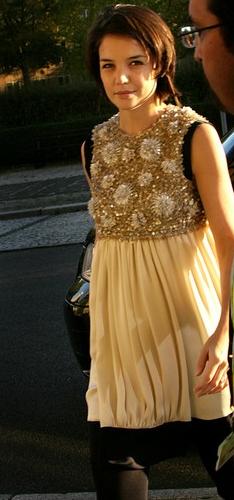 The actress is formally dressed for dinner. The dress seems outlandish for Hollywood style. She wears a gold baby doll dress with embellished bodice, and black bands across the hem and armholes. She wore subtle makeup made it seem even less appealing, as it didn't go well with the look in question.
Katie Holmes was also seen jogging around the city, where Tom Cruise is taping his film "Rubicon". The running is apparently not just for him, but for her intention to take part in the New York City Marathon.
A friend revealed, "She's been training for months, in both LA and Berlin. Katie is determined to complete the race, she's as fit and toned as ever."
Comments
comments