Angelina Jolie has sparked pregnancy rumors after she was no longer swigging wine with dinner as proof she was with child.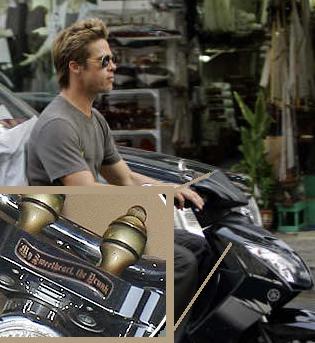 In fact, when she wore her brown cover to the Fourteenth Annual Screen Actor's Guild many were certain she was pregnant because she was drinking only water.
Now a report has indicated that Brad Pitt has a look at his new bike. The actor's new bike has sparked rumors that he was more than a bit upset that he didn't get the new Ducati Desmosedici RR motorcycle first.
Now his new custom ride has an interesting dedication. A small inscription on the motorcycle says "My Sweetheart the Drunk".
Is that a dedication for Angelina Jolie since the actress was Brad's sweetheart? It was believed that the dedication is a homage to recording artist Jeff Buckley. His album "Sketches for My Sweetheart the Drunk" is a collection of polished studio tracks and four-track demos.
Meanwhile, Brad Pitt was spotted with his new bike as the actor left the offices of his managers Brillstein Entertainment on Wilshire Blvd. yesterday.
Comments
comments