Brad Pitt and Angelina Jolie seems a Hollywood's couple that found themselves tied down to a reality that revolved around naps, scheduled feedings, and playtime with their kids. Both look worse for wear, Angelina Jolie appears to be dangerously thin and Brad Pitt looks rough.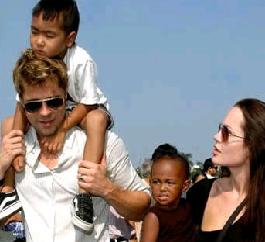 A report claims that Brad Pitt took to his new role as a dad with excitement and enthusiasm. A friend revealed, "Brad loves everything about being a dad. He's in his element making plane noises as he flies a spoonful of food into Shiloh's mouth when he feeds her. He doesn't want to miss a minute."
As for Angelina Jolie, the actress hasn't found being a parent to a wild brood as easy to adapt. A source revealed, "Angelina has to schedule her every move around Brad and the kids and it's a drastic change for her. She craves the life she had before. She wants to be able to take off where she wants and when she wants but she can't. She feels trapped."
The kids did not appear to be brats but the friend simply puts it as "anyone who's got four kids will tell you that they're a handful – and an earful – when they are together, and there are moments when Angelina needs time for herself.
Comments
comments