Brad Pitt's latest magazine shoot places him on the front cover of the January issue of Architectural Digest as he talked about building houses.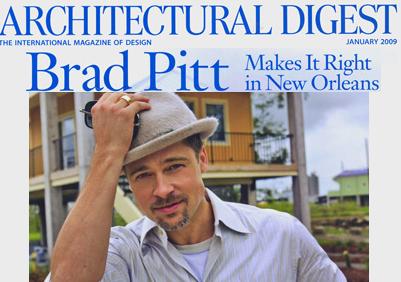 The "Babel" star says his Make It Right project is aiming to help rebuild 150 homes in New Orleans.
Brad Pitt, who has been on hand to help hurricane victims move into their new homes, has been working in the Lower Ninth Ward, one of the areas hit hardest by Hurricane Katrina.
He said: "You have no idea what a high it is for me to see the delight on people's faces when they see how these homes work."
And Brad believes that it's not only American where he can make a difference, adding: "We've cracked something here…these houses redefine affordable housing. This is a proving ground for a bigger idea that could work globally."
Meanwhile, Ellen Degeneres took advice from Brad Pitt on Wednesday's show on how best to lure George Clooney as a guest. George Clooney's office on the Warner Brothers' lot is by Ellen's set, and she has made a running "Catch Clooney" project in recent months of sending people and items over to Clooney, never yet succeeding in either seeing him, talking to him or getting him on her show.
Brad Pitt told the television host via satellite from New Orleans: "This is your problem. Get a bunch of Chippendales. He's yours. Three, four – no less than three… Make one a blonde."
Ellen DeGeneres promised she would, saying: "We're going to do it and we're going to say it's from you."
Brad Pitt also talked his New Orleans Make It Right charity, which Ellen Degeners' viewers have helped with, and his new movie "The Curious Case of Benjamin Button," opening later this month.
Comments
comments