Brad Pitt took the kids on a day out through playground rides and ice cream.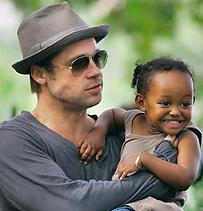 The actor, together with Zahara and Pax Thien, appeared to be having fun on a visit to New York's Central Park.
Maddox, who is wearing a Taxi Driver-inspired Mohawk, also made the trip. The little boy was with his bodyguard. Shiloh stayed at home with Angelina Jolie.
Besides treating the children, Brad Pitt mixed his New York visit with business of a philanthropic nature after he took a helicopter ride to Hamptons to host a dinner party raising money to help rebuild New Orleans.
Comments
comments