Angelina Jolie and Brad Pitt helped The Children's Health Fund to catch attention on the more than 46,000 children still displaced two and a half years after hurricanes Katrina and Rita destroyed their homes.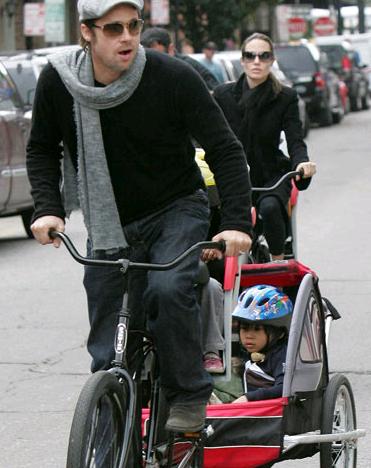 Angelina Jolie on Saturday revealed her work as a goodwill ambassador for the United Nations High Commissioner for Refugees prompted her to get involved with the effort, saying, "This is the largest displacement of children in my own country so I want to learn as much as possible."
A report, which was issued by the CHF, found that around 64,000 children hit by the hurricanes in the Gulf Coast of Louisiana and Mississippi were still at risk.
Angelina Jolie added, "The difference here is that children are feisty, fun and full of pride. They know where they're going and what they're going to do." Brangelina have made New Orleans their home since the hurricanes and have been working to help the area recover.
Meanwhile, Angelina Jolie, together with Shiloh, took a bike ride through the French Quarter in New Orleans, Louisiana on Saturday afternoon December 22.
Brangelina also started off down their street when the chain on the actress' bike came undone. One of her bodyguards came to her rescue to repair the bike. Brad Pitt was seen getting a little chuckle out of the incident. Brad was also spotted pedaling Maddox, Pax (in a kids' chariot carrier) and Zahara (in a kid's bike seat).
Comments
comments