Brad Pitt and Angelina Jolie are spotted as they took two thirds of their rainbow family to see the New York theatre production of the Little Mermaid.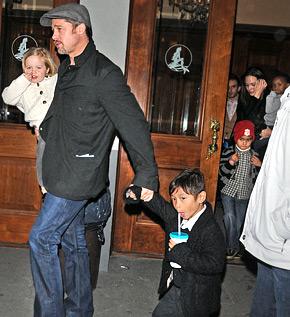 Wisely leaving seven-month-old twins Knox and Vivienne in the care of nannies, Angelina and Brad took their oldest four children for an evening of Disney songs.
Spotted leaving Broadway's Lunt-Fontanne Theatre last night, the 45-year-old led the way carrying two-year-old daughter Shiloh Nouvel, as he held five-year-old son Pax Thien's hand.
Dressed smartly in a white shirt and black jacket, Vietnamese-born Pax was enjoying a soft drink as he followed his dad.
Shiloh looked her usual adorable self in a cream woolly jumper, but like many toddlers, appeared to be preoccupied with fiddling with her nose.
Attempting to keep a low-profile was their 33-year-old mother, who was wearing her signature color black as she carried three-year-old Zahara Marley out of the building.
Perhaps a souvenir from the couple's recent trip to Britain, where they attended the Baftas, seven-year-old Maddox was wearing a Liverpool FC beanie hat.
During the performance, the Jolie-Pitt family were entertained by the Little Mermaid cast singing classic songs such as 'Under The Sea' and 'Kiss The Girl'.
After a busy few months promoting their films The Changeling and The Curious Case Of Benjamin Button and attending award shows, the couple are reveling in their freer schedule.
In the last three months alone, the Jolie-Pitt clan have travelled to Thailand, Japan, France, Germany and London, as well as jetted from Los Angeles to New York to New Orleans in their native America.
But as the awards season drew to a close with the Oscars on Sunday night, Brad and Angelina returned to their latest base – New York City – for some quality time with their children.
In a recent interview, Angelina Jolie admitted she was hoping to scale back her acting roles to spend more time with her growing brood.
She revealed: "(My priorities are) I say kids first, woman to Brad and then my work internationally; and try to educate myself and learn about the world and do some good things while I'm alive. So what is that? Fourth?"
She continued: "I don't want to wake up one day and say I had my career that expanded so much longer and I did that many more films and miss out on all those other things in life."
She added: "I'm so lucky, and I don't want to miss school lunches and things like that."
Comments
comments