Owen Wilson is in France right now with not one but two lovely ladies. In Paris to promote "Marley and Me" with Jennifer Aniston, Wilson brought his rekindled flame Kate Hudson along for the trip.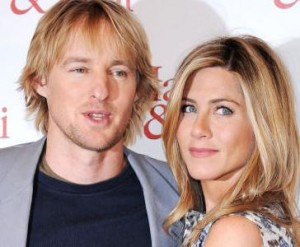 Before Thursday's premiere, photos of which are below, Wilson and Hudson spent a couple nights in Normandy after a weekend in Paris.
The couple mixed sightseeing with small restaurants, picturesque ports, and shopping, and found time for a walk among the crosses lining the U.S. cemetery above Omaha Beach.
After making the two-hour drive, Wilson, 40, and Hudson, 29, stopped first in the port of Trouville-sur-Mer, settling in at the town's celebrated portside terrace restaurant, Les Vapeurs.
One staffer revealed: "They were like any normal young couple. She held his hand and they were very nice, no pretensions."
Following a one hour-plus lunch, the pair drove over for a lengthy walk around the shops and galleries lining the 18th century port of Honfleur before returning to Trouville for dinner at L'Inattendu, a small French backstreet restaurant.
A diner, who recognized Owen under his black ball cap when the couple arrived around nine, said: "They were very comfortable with each other. There was lots of talking going on between them, laughter."
Wednesday morning, Owen took a nearly 90-minute jog, while Kate went through the exclusive designer boutiques lining the French resort's main avenue. Afterwards, it was back to Les Vapeurs for a second day's lunch, and then an afternoon drive to the Normandy Cemetery, where those who fell in the D-Day landings remain.
They then returned to Paris, where Wilson joined Aniston for the premiere of French-titled Marley & Moi.
Comments
comments