Brad Pitt and Angelina Jolie are reportedly heading for one of the messiest, most expensive breakups in Hollywood history.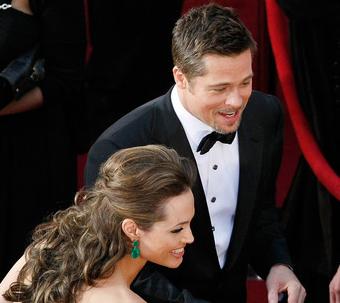 With Brad looking after their kids 24/7 while Angelina throws herself into work, their relationship has been stretched to the breaking point, according to the insiders.
Now family and friends expect a heartbreaking battle for their six children, and sources predict a titanic fight over their massive $250 million fortune.
"Brad and Angelina have been leading increasingly separate lives, and Brad has had enough of being a full-time dad," maintained an insider. "He's visited Angelina only once on the New York set of her latest movie, and he genuinely feels they no longer have the equal relationship they once did."
As one of Tinsel Town's top A-list couples, Brad pulls in up to $35 million a film, while Angelina banks around $20 million per movie. Sources say dividing their tangled assets is sure to be a legal minefield.
But as Brad, 45, and Angelina, 33, brace for a possible split, the issue of child custody is causing the greatest heartache, sources say.
Meanwhile, with his relationship with Angelina Jolie reportedly at breaking point, Brad Pitt and Jennifer Aniston have been in constant contact in recent weeks, culminating in a secret meeting in New York on April 23.
It's claimed that Brad visited Angelina on the set of Salt before heading across town to the set of Jen's upcoming movie The Baster, which is also currently filming in the Big Apple.
A mutual friend of the former couple said: "He pulled up in his black SUV. He arrived on the opposite end of the set from where Jen's trailer was, and Jen snuck into his car. They drove around New York City together, talking."
"Brad confessed his feelings to Jen. He told her that he is trying to make his relationship with Angelina work, but it is failing."
The reunion-to-go reportedly lasted an hour, with Brad dropping Jen off at The Greenwich Hotel when it was over.
The source added: "They had to plan it meticulously so no one would find out."
The report also claims Brad is currently wearing a necklace his ex-wife gave him for his 45th birthday last December.
Comments
comments