Although a long holiday weekend is right around the corner, Britney Spears is getting to work promoting her upcoming album, Circus, in Europe.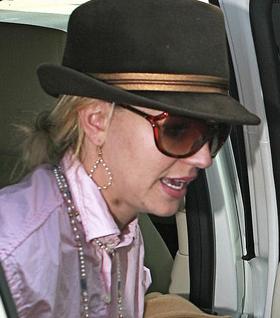 The singer boarded a flight from Los Angeles to Frankfurt, Germany on Monday for several appearances in support of the album, which is scheduled to be released Dec. 2.
Britney Spears is traveling with several close associates and family members, including her father, Jamie, and manager Larry Rudolph. According to an eyewitness, the singer, who was dressed in a brown fedora, black sweatpants and a pink top, jumped out of her white Cadillac Escalade smiling and holding her dad's hand at the airport.
But the singer was driven to tears as photographers shouted and pushed their way towards her at LAX airport as she tried to go through security.
Following her visit to Germany, Spears will travel to France where she is scheduled to appear on the French program, Star Academy; and later to England for her eagerly awaited performance on the X Factor on Saturday, November 29.
Britney's security got violent with the photographers to protect the hassled singer. The singer's wrongly parked SUV was served a ticket by the traffic police at the airport.
Meanwhile Britney Spears' candid new MTV documentary, Britney: For the Record, airs Nov. 30.
Comments
comments