Miley Cyrus, who performed at the recent AMAs, has been given a recording studio for her birthday.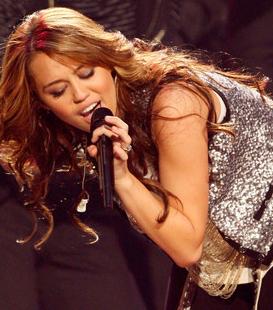 The "Hannah Montana" star celebrated her 16th birthday at the American Music Awards (AMAs) on Sunday (23.11.08) and her father, Billy Ray Cyrus, was keen to make her day special by splashing out on a unique present.
Her father revealed: "I bought Miley her very own recording studio!"
Miley's friends also decided to help her celebrate by laying on a star-studded party for her backstage at the AMAs.
"High School Musical" star Ashely Tisdale, singer Taylor Swift, and former "American Idol" contestant Jordin Sparks joined Miley's parents to present her with a huge, multi-layered cake with 'Happy Birthday Miley' written on it in pink icing.
Taylor Swift said: "Us girls got together and thought it would be fun to do a little surprise party for Miley, she deserves it."
Miley Cyrus was thrown an early birthday party by Disney last month, which saw the legendary theme park closed especially for her.
Meanwhile, Miley and her rumored boyfriend Justin Gaston were seen paying a visit to tattoo parlor with country singer Billy on Friday (21.11.08).
Billy Ray reportedly got a new inking as Miley and Justin sat passionately kissing.
Comments
comments