Britney Spears made appearance at court in hope that she will regain custody of her kids. The troubled pop singer was earlier snapped wearing without panties again this time exiting her car. She skipped out on a morning court session, but now has made her way down to the LA courthouse this afternoon.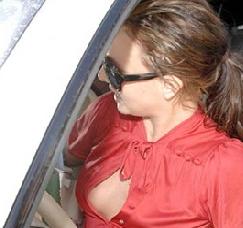 The "Toxic" singer, who arrived at the Los Angeles Superior courthouse in jeans, a black top and white Versace purse, told the reporters, "I'm good. Thanks!" The 25-year-old singer, who also wore sunglasses, conferred with her attorney inside the courtroom. A report indicated that fifteen deputies escorted the singer to the courtroom.
Scott Gordon, a Superior Court Commissioner, asked the clerk to swear her in under oath. Spears raised her right hand and said "I do." Many were shocked that she pulled that off. He then asked Spears to state her name, and she responded, "Britney." Gordon clarified, "Your full name." She replied, "Britney Spears."
Then he said, "The petitioner is wearing sunglasses, but counsel said there is a medical condition." After that the Britney's attorney made a motion to seal the courtroom, and media were made to leave.
You could see the photo that Britney did not wear her underwear here
Comments
comments