Britney Spears was spotted strutting her stuff as the troubled pop singer stepped out to fetch some coffee.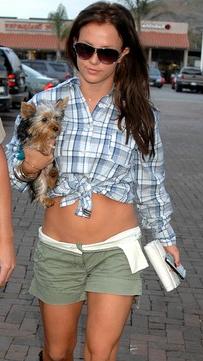 The "Toxic" singer strutted her puppy named London and a belly bump that could have sparked pregnancy rumors.
But then the 25-year-old singer, who was wearing a pair of shorts with the seam turned over and her pockets hanging out, was probably just trying to show the tattoo over her crotch.
Her hair was in the usual mess, perhaps a style inspired by puppy London.
She was also recently spotted in a big party for Addiction Cosmetics in Newport Beach Orange County.
The singer wore a pirate belt over a very short off shoulder white dress with full sleeves. She was wearing underwear and we know that for a fact because she flashed a netted blue underwear as she settled into her car causing the short dress to ride up.
Comments
comments