Britney Spears is reportedly using an asthma inhaler in a desperate measure to lose weight. The troubled pop singer did not suffer from the respiratory illness but she is allegedly puffing on the medical aid to suppress her appetite.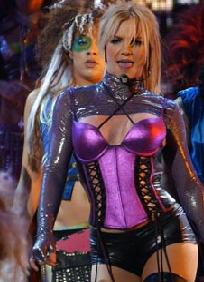 A source revealed, "Britney doesn't have asthma. She's using the chemical epinephrine, found in asthma medications, as an appetite suppressant."
Her friends are extremely concerned about her reported use of the inhalers because a 17-year-old model suffered a fatal heart attack and died from using a similar weight loss method. Medics also had warnings of side effects include headaches, dizziness, nausea and an irregular heartbeat.
The "Toxic" singer has told pals she will "do anything" to lose weight.
Meanwhile, her former bodyguard has claimed the 25-year-old singer made him hold a curtain around her table as she took drugs in a nightclub. Tony Barretto, who was fired by the 'Toxic' singer in May, claims he saw the mother-of-two take illegal substances on at least two occasions.